Amisha Patel
Amisha Patel made a splash with Kaho Na Pyaar Hai and later proved herself in Gadar: Ek Prem Katha.


Basics on Amisha


Amisha Patel is a Gemini born on 9th June 1976 in Mumbai. Her parents are Amit Patel and Asha Patel. Actor Ashmit Patel is her brother. She is the grand-daughter of lawyer-politician Rajni Patel, who was also the Congress Committee President, Mumbai.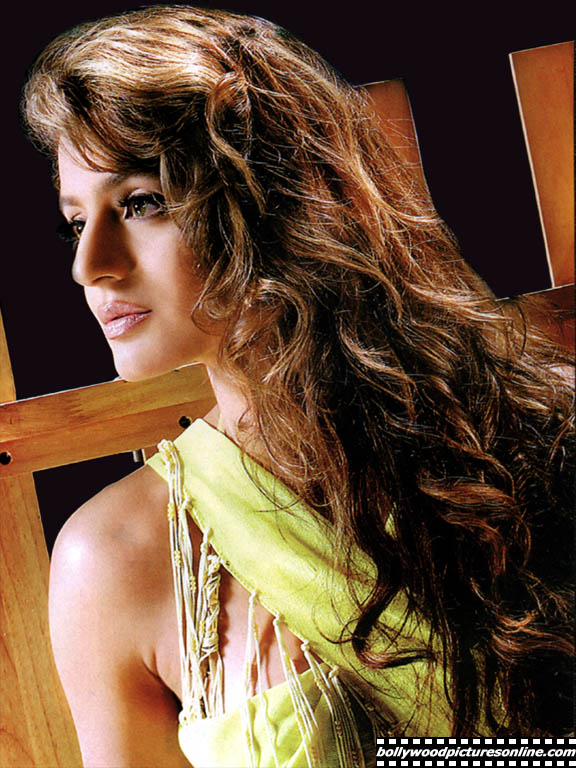 Her schooling was at Cathedral and John Connon High School, where she was the head girl. She left to Massachusetts to study economics at the Tufts University. She is even known to have won a gold medal for her paper on economics. She worked for Morgan Stanley before trying her hand at acting in theaters with Satyadev Dubey's theater group.
Her conflicts with her family was publicized as she took legal measures against them.
She is dating director Vikram Bhatt.
Amisha's Movies
Amisha Patel got lucky when Kareena Kapoor opted out of Hrithik Roshan's debut Kaho Na Pyaar Hai (2000). The movie was a blockbuster and Amisha became famous overnight. She also worked her acting skills in the Telugu movie Badri with Pawan Kalyan.
In 2001, she gave a fantastic performance as Sakeena in Gadar: Ek Prem Katha. She won the Filmfare Special Performance Award. She worked with Hrithik Roshan again in Aap Mujhe Acche Lagne Lage (2002) that flopped. Humraaz (2002) was a hit.
She acted in several movies like Pudhiya Geethai (2003), Naani (2004), Elaan (2005), Narasimhudu (2005), Mangal Pandey: The Rising (2005), Teesri Aankh (2006) and Aap Ki Kathir (2006).
Her luck changed for the better with Honeymoon Travels Pvt Ltd (2007) in which she played the bubbly, garish Pinky Kapoor. Bhool Bhulaiyya (2007) with Akshay Kumar and Shiney Ahuja also did well. She made a brief appearance in Thoda Pyaar Thoda Magic in the song Lazy Lamhe.
In 2009, Amisha will be appearing in comedies Run Bhola Run with Govinda and Chatur Singh Two Star with Sanjay Dutt.
Bollywood actress Amisha Patel in white saree embellished with sequins,zardosi and stones paired with rhinestone straps saree blouse.
Shahid Kapoor met Amisha Patel in a suburban five-star over coffee. Given the history behind their meeting, a lot of significance is being attached to the rendezvous.
Amisha's fierce rivalry with Kareena is well-documented, but what was swept under carpet was the fact that Shahid had refused to work with Amisha in films. But now there is hardly any point to carry a fight when the reason for it didn't existsin the place.
So the coincidental meeting in the coffee shop wasn't co-incidental after all. It is known that shahid was the first to pick up the phone and call Amisha as she suggested that the two meet for coffeeand talk things out.
However friends of Kareena says that it is shahid's trick to find a way of trying to get back at her. Now how far this goes, will depend on the person, Mr.Vikram Bhatt, the boy friend of Amisha.
Amisha Patel is currently dating Kanav Puri, a London-based industrialist. Earlier she has had romantic links with bollywood director, Vikram Bhatt, who reportedly stood by her thick and thin during her personal crises on home front.
Amisha Patel with her success streak in bollywood continues to dazzle on screen enthralling and entertaining millions of fans with her amazing acting talents.