Victoria Justice
Victoria Justice (born February 19, 1993) is an American actress, singer, songwriter, and dancer. She debuted as an actress at the age of 10 and has since appeared in several films and television series including the Nickelodeon series Zoey 101 and Victorious. She has made appearances in several theatrical releases, including Unknown as well as the 2006 thriller The Garden. She has appeared in several Nickelodeon series, including True Jackson, VP, The Troop, The Penguins of Madagascar and iCarly, as well as on the Nickelodeon game show BrainSurge as a contestant. In 2010 she starred in the Nickelodeon film The Boy Who Cried Werewolf.
Aside from acting, Justice is involved in her musical career. She has performed several songs for the soundtrack to the Nickelodeon musical Spectacular!, in which she starred. She has recorded a number of songs for the Victorious series. Justice has announced the release of her debut album, which is expected to be released sometime during the summer of 2011.
Early life
Victoria Justice was born on February 19, 1993, in Hollywood, Florida, to Serene and Zack Justice.Her mother is Puerto Rican and her father is of English, German, and Irish descent. She first developed an interest in acting when she was 8 years old after watching a children's commercial.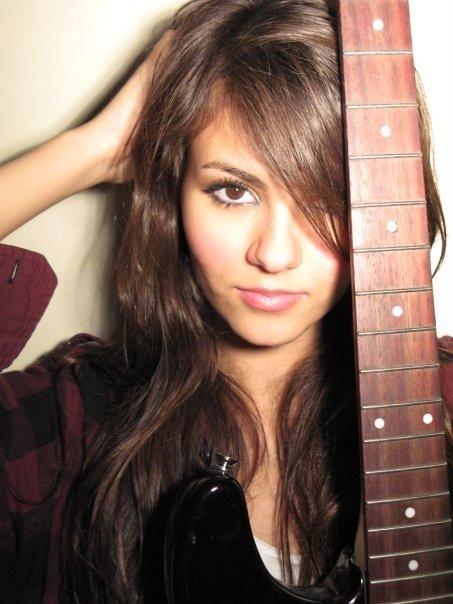 She and her family relocated to Hollywood, California, in 2003. In 2005, she auditioned and was accepted into the musical theatre program at Los Angeles' renowned Performing Arts Magnet school.
Philanthropy
Justice has taken part in a few charity events. She has supported charities such as the United Nations Foundation, which benefits numerous causes such as AIDS, Children, Environment, Health, Human Rights and Peace.On September 30, 2010, Justice announced she would be joining the Charity Campaign Girl Up. When asked about joining, she stated "I'm so excited to become a Champion for Girl Up and to help make a difference for girls who aren't given the same opportunities that most of us take for granted. I know that there are plenty of girls throughout the country who are just like me – ready and motivated to stand up for the rights and well-being of girls in the developing world. I am confident that, together, we will rise to the challenge."
Justice joined Girl Up on September 30, 2010 for the campaign's official launch in New York City and will go on to support the "Unite for Girls" tour, which travels to cities across the U.S. to activate and engage teens from coast to coast. She will have the chance to visit Girl Up-supported programs in developing countries to observe first-hand the impact they can have on girls and communities.During an interview with Seventeen magazine, Justice stated "I'm a 17-year-old girl, and I have all of these opportunities, but there are other 17-year-old girls who have zero opportunities, which is why I'm working with Girl Up. I was looking into different charities and hearing these girls in Guatemala and Africa talk about having to walk miles for water and crying because they don't have any money to go to school. It just really broke my heart, so I want to spread the word as much as I can and get other people working together. Before you know it we can actually make a difference."
Her family moved from Hollywood, Florida, to Los Angeles when she was 11 after Justice had stated she wanted to be a part of filming commercials as well as television series and films. Justice has done commercials for companies such as Ralph Lauren, Gap and Guess. She appeared in national commercials for Mervyn's, Peanut Butter Toast Crunch and Ovaltine.