David's
earliest exposure came when he worked on a b-side to British group Damage's cover of "Wonderful Tonight". He then started doing vocals for a few tracks with garage act Artful Dodger. The song "Re-Rewind", from the Artful Dodger album It's All About the Stragglers, hit Number 2 on the UK charts in 1999; thus, paving the way for a solo career.
David's first single, "Fill Me In", released on Colin Lester's and Ian McAndrew's Wildstar Records made him the youngest solo male artist ever to reach Number 1 in the UK (he was 19 years old at the time).
This was the first of a string of four Top 10 singles from his debut album Born To Do It, which eventually sold more than seven million units worldwide, earning multi-platinum status in more than 20 countries. The song "Key To My Heart", taken from the US version of the album, was also featured on the award-winning Warner Brothers animated film Osmosis Jones.
Craig David Red Pose
Craig David Album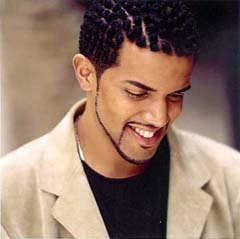 Craig David Nice Smile
Craig David Sad Pose