Rosanne Coker – Daniel Radcliffe's Girlfriend
– It is a sight that will mean heartache for his millions of female admirers.Daniel Radcliffe and a pretty brunette stroll hand in hand down a New York sidewalk.And they are more than just good friends.The girl in question, the Daily Mail can reveal, is Rosanne Coker, a 22-year-old painter and decorator's daughter.
22 year-old Daniel Radcliffe is letting the world know who is the girlfriend he talked about recently with whom he is very much in love with her name is Roseanne Coker but her friends called her Rosie,. The news about Ms. Coker came out long but at that time nobody knew who she was some even believe she was an actress, she is in the industry alright but not acting.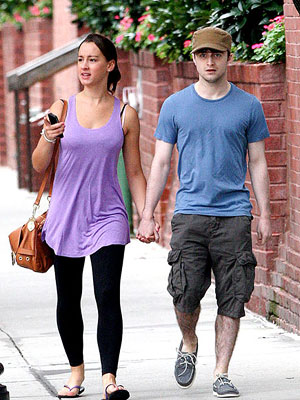 The actor was spotted in New York City on Tuesday, holding the hand of a woman . a sight that will mean heartache for his millions of female admirers. they is
Daniel Radcliffe
and his girlfriend
Rosanne Coker
. they has been dating Radcliffe since last year with Rosanne Coker, she the lucky girl who can getting his heart....
She first met Radcliffe when she worked as a production assistant on
Harry Potter And The Half-Blood Prince
in 2007.In total they have worked on four films together, including the last three Harry Potter projects and
The Woman In Black
, the new Hammer movie which is due for release next year.
Rosanne
age 22-year is a painter very clever,decorator daughter and She was just a really nice person.Since they started dating, Rosanne has split her time between her family's home in Surrey, England and Radcliffe's apartment in New York...so what you think they match couple or not????