Mariah Carey
Mariah Carey
Mariah Carey
(born March 27, 1970)
is an American
R&B
/pop singer-songwriter, record producer and actress. She made her recording debut in 1990 under the guidance of
Columbia Records
executive
Tommy Mottola
, and became the first recording artist to have her first five singles top the U.S.
Billboard Hot 100
chart. Following her marriage to Mottola in 1993, a series of hit records including "
Dreamlover
," "
Hero
," "
Without You
," "
Fantasy
," "
One Sweet Day
" and "
Always Be My Baby
" from the diamond albums
Music Box
and
Daydream
and released the holiday standard "
All I Want For Christmas Is You
" from the best selling Christmas album of all time
Merry Christmas,
established her position as Columbia Records' top-selling act.
ollowing her separation from Mottola in 1997, she introduced elements of
hip hop
into her album work, to much initial success, but when she left Columbia in 2001 her popularity was in decline. She signed an unprecedented $100 million deal with
Virgin Records
, only to be dropped from the label and bought out of her contract in the following year. This radical turn of events was due to the highly publicized physical and emotional breakdown, as well as the poor reception that was given to
Glitter,
her film and soundtrack project. In 2002 Carey signed a $24 million deal with
Island Records
, and after a relatively unsuccessful period, she returned to the top of pop music in 2005 with her album
The Emancipation of Mimi.
The album became her best-selling album in the 2000s and its single, "
We Belong Together
," became her most successful solo single of her music career and was also awarded Song of the Decade by
Billboard
.
In a career spanning over two decades, Carey has sold more than 200 million albums, singles, and videos worldwide, according to
Island Def Jam
, which makes her
one of the world's best-selling music artists
.
Carey was cited as the world's best-selling recording artist of the 1990s at the
World Music Awards
in 1998,
and was named the best-selling female artist of the millennium by the same awards show in 2000.
According to the
Recording Industry Association of America
(RIAA), she is the
third-best-selling female artist
, with shipments of 63 million albums in the U.S. In 2006 Carey was listed in 6th place on the
Forbes
Richest 20 Woman In Entertainment
list. In April 2008, "
Touch My Body
" became Carey's eighteenth number one single on the
Hot 100
, the most by any solo artist.
Carey was included in
Time
magazine's
100 Most Influential People
in the world in 2008. Carey starred in the film
Precious
(2009), which earned her a Breakthrough Performance Award at the
Palm Springs International Film Festival
and an
NAACP Image Award
nomination.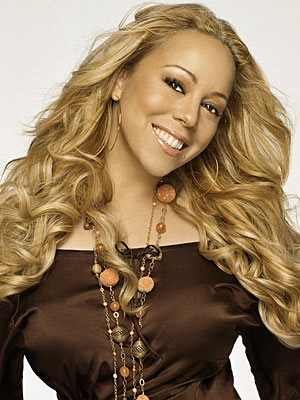 Aside from her commercial accomplishments, she composes all her own material, has earned five
Grammy Awards
,
seventeen
World Music Awards
,
and is known for her five-octave
vocal range
,
power
,
melismatic
style and signature use of the
whistle register
.
Mariah Carey Designs For HSN
It's only a matter of days after we reported that Mariah Carey is officially pregnant, and yet there's another news coming from the songstress. Mrs. Cannon is going aboard the celebrity designers bandwagon by the new and lucrative deal with the Home Shopping Network.
Mariah Carey was tapped by HSN Inc.'s CEO, Mindy Grossman and she immediately jumped at the opportunity to develop her own collection of shoes and baubles. As she's also known for her fragrance collections, Mariah is also looking forward to enhance her fragrance collections in her partnership with HSN.
Although claiming to be a non-wearer when it comes to jewelry, Mariah Carey will come out with a sparkling pavé-set initial pendants and butterfly earrings as key items for her jewelry line. As for other accessories, we've always known Mimi is big on boots, so expect nothing less than well-designed fur-trimmed suede boots and quilted nylon boots wrapped in chains. While the jewelry will be available from $39.99 up to $199.90, the shoes will start at a slightly higher price of $69.90 up to $199.95. There will also be a new version of Mariah Carey's Luscious Pink fragrance and 25 bottles of the Luscious Pink Deluxe Edition fragrance -which will be priced at $275. The bottle will feature a Swarovski Elements-encrusted butterfly with a personal note from Mariah.
Mariah Carey has been an avid web-surfer and a loyal shopper of HSN, especially when her friend, Boyce, is on.
"It's a classic, you have to keep it on. I do a very good impression of her."
Well, soon she won't have to do impressions anymore as Mariah will start selling her own stuff on November 29. Spoken like a true pro, Mimi said she has no pre-show jitters:
"I think it's just about being yourself, explaining the different products and enjoying yourself. If I take it so seriously, and say, 'Oh my god, It's a Shakespearean moment,' it's not going to be fun. I am looking at it as something fun. This is an extracurricular activity for me and I am looking forward to it. It's another creative outlet for me."
And like a true designer, Mariah designed her line for HSN with the wearers in mind.
"When I don't have a platform, we could have a traumatic moment, like a semi-spill on stage, which nobody wants. A platform shoe grounds you a little more. I try to make my designs more practical as well as pretty. One of the things I thought about was how I could do affordable, really nice, comfortable shoes that are still flattering to the leg."
Can't wait to get your Mariah Carey gear on HSN? Just wait patiently and take a look at what's to come. From the looks of it, we say Go Mimi!