Keira Christina Knightley
Keira Christina Knightley
(play /ˌkɪərə ˈnaɪtli/; born 26 March 1985) is an English[2] actress and model. She began acting as a child and came to international prominence in 2002 after co-starring in the films Bend It Like Beckham and Pirates of the Caribbean: The Curse of the Black Pearl.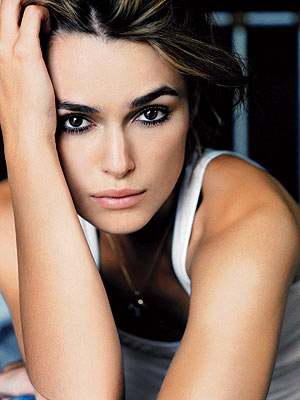 Knightley
has appeared in several Hollywood films and earned nominations for the Academy Award for Best Actress and Golden Globe Award for Best Actress for her role as Elizabeth Bennet in Joe Wright's 2005 adaptation of Jane Austen's novel Pride and Prejudice. Two years later she again was nominated for the Golden Globe Award for Best Actress, as well as the BAFTA Award for Best Actress in a Leading Role for her performance in Atonement.
In 2008, Forbes claimed Knightley to be the second highest paid actress in Hollywood, having reportedly earned $32 million in 2007, making her the only non-American on the list of highest paid actresses
Early life
Knightley was born in Teddington, London, England, the daughter of Sharman MacDonald, an award-winning playwright, and Will Knightley, a theatre and television actor. Her father is English and her Scottish mother is of half Welsh ancestry. She has an elder brother, Caleb. Knightley lived in Richmond, attending Stanley Junior School, Teddington School and Esher College.
She was diagnosed with dyslexia at the age of six, but nevertheless was successful in school and was thus permitted to acquire a talent agent and pursue an acting career. She requested an agent as early as the age of three and got one when she turned six, from her mother as a reward for studying hard.
Knightley has noted that she was "single-minded about acting" during her childhood.
She performed in a number of local amateur productions, including
After Juliet
(written by her mother) and
United States
(written by her then drama teacher, Ian McShane, no relation to the actor).
Personal life
Knightley, who lives in London, had a relationship with her Pride & Prejudice co-star Rupert Friend from 2005 until the couple split in December 2010.She recently served as a bridesmaid at the wedding of her brother, Caleb, in Glasgow, Scotland. In attendance with her was James Righton, a member of rock band Klaxons, who she has reportedly been dating since late February 2011.
Knightley has denied rumours she is anorexic, although she did say—after her appearance at the Pirates of the Caribbean: Dead Man's Chest premiere led to media speculation that her extremely slender figure was due to an eating disorder—that her family has a history of anorexia. Knightley sued the Daily Mail after they claimed she lied about having anorexia; the article said that a teenage girl died from anorexia, indicating that Knightley's physical appearance may have influenced her in some way. She was awarded a settlement.
In July 2006, Knightley said she has become a workaholic, detailing that "the last five years have blended into one. I can't tell you what was last year and what was the year before" and specifying that she was "working too much" and was "quite frightened that if I continue at this rate I will start to hate what I love," suggesting that she would take a one-year break from acting to travel and focus on her personal life.